The recording of The Known World Choir and Friends
at Pennsic 41 is now available!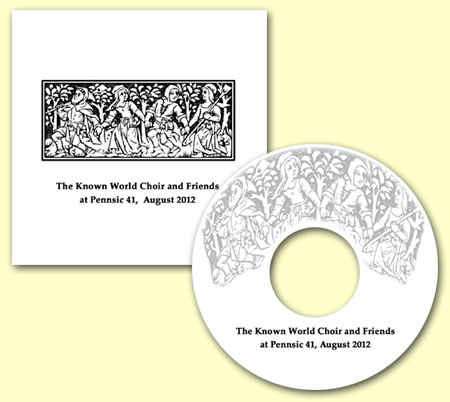 CD's are $4.00 each plus shipping
(plus 6.25% Massachusetts sales tax, if applicable; all U.S. funds).





The Known World Choir and Friends at Pennsic 41



Directed by Master Robyn Solarius except where noted.

Programme:

O la, O che bon echo! – Roland de Lassus (1532-1594) 1:41
Thule, the Period of Cosmography – Thomas Weelkes (1576-1623) 4:45
Performed by Chorulus Pennsicus and
directed by Mistress Arianna of Wynthrope
If Ye Love Me – Thomas Tallis (1505-1585) 1:46
Todos los bienes del mundo – Juan del Encina (1468-1529) 1:51
Directed by Mistress Eliane Halevy
O Quam Gloriosum – Tomαs Luis de Victoria (1548-1611) 2:33
Sumer is Icumin In – British Library MS Harley 978 (mid 13th century) 1:32
Ach, weh des Leiden – Hans Leo Hassler (1564-1612) 2:30
Sing We and Chant It – Thomas Morley (1558-1603) 1:48
Mille Regretz – Josquin Des Prez (c. 1440-1521) 1:43

Recorded at the dress rehearsal, Thursday August 9, 2012,
by Master Li Kung Lo.



This audio CD is produced to-order on CD-R media.
We sample a percentage of the copies produced, but if the copy you receive contains any skips, please contact us right away to arrange for a replacement copy at no charge to you.



Return to top of page.