The recording of The Known World Choir
at Pennsic 40 is now available!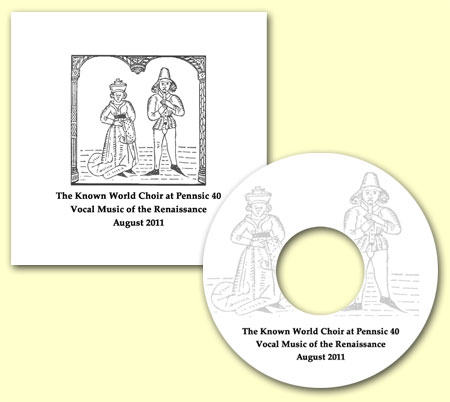 CD's are $4.00 each plus shipping
(plus 6.25% Massachusetts sales tax, if applicable; all U.S. funds).





The Known World Choir at Pennsic 40



Vocal Music of the Renaissance — Celebrating the 20th Year of the Pennsic Choir

Director: Erlandr Nordenskald

Recorded at the dress rehearsal, Thursday August 11, 2011,
by Master Li Kung Lo.

Programme:

Agincourt Carol — Anonymous, 15th century 5:19
By the Waters of Babylon / Al Naharot Bavel — Salomone Rossi (1570-1630) 3:46
Ave Verum Corpus — William Byrd (1543-1623) 3:58
Ma fin est mon commencement — Guillaume de Machaut (1300-1377) 1:46
What If I Seek For Love — Robert Jones, 1600 (1577–1617) 1:53
Sweete Kate — Robert Jones, 1609 (1577–1617) 1:51
Tanzen und Springen — Hans Leo Hassler, 1601 (1564-1612) 2:57


This audio CD is produced to-order on CD-R media.
We sample a percentage of the copies produced, but if the copy you receive contains any skips, please contact us right away to arrange for a replacement copy at no charge to you.



Return to top of page.