The recording of The Known World Choir
at Pennsic 38 is now available!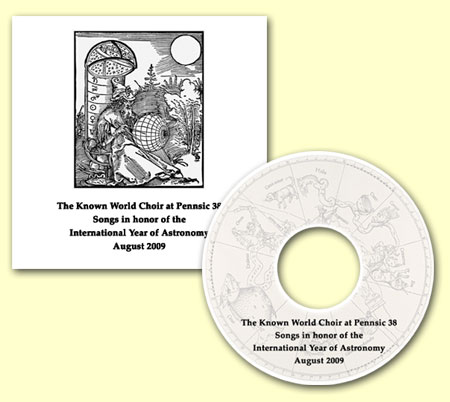 CD's are $4.00 each plus shipping
(plus 6.25% Massachusetts sales tax, if applicable; all U.S. funds).





The Known World Choir at Pennsic 38



Songs in honor of the International Year of Astronomy

Director: Mistress Arianna of Wynthrope

Recorded at the dress rehearsal, Thursday August 6, 2009,
by Master Li Kung Lo.

Programme:

Stella Splendens (Anonymous, late 14th c.) 2:15
La Terre Les Eaux Va Buvant (Guillaume de Costeley, 1531-1606) 1:45
Ave Maris Stella (Hans Leo Hassler, 1564-1612) 3:14
Soloists: Master Robyn Solarius and Lord Nįttfari Garšarsson.
Thanks Gentle Moon (Francis Pilkington, 1605) 2:19
Hinunter Ist der Sonnen Schein (Melchior Vulpius, 1609) 1:37
Los Reyes Siguen La Estrella (Francisco Guerrero, 1528-1599) 1:45
Hence Stars Too Dim of Light (Michael East, 1601) 2:02


This audio CD is produced to-order on CD-R media.
We sample a percentage of the copies produced, but if the copy you receive contains any skips, please contact us right away to arrange for a replacement copy at no charge to you.



Return to top of page.